Simplest Tastiest Roasted Chicken Recipe Ever!
To preface, I have to tell you that:
1. I am REALLY sick of chicken. I have eaten (and continue to eat) more chicken breasts than any person should. In fact, I have eaten so much chicken that I think I sometimes cluck in my sleep. Urgh!
2. I've attempted to roast many a whole chicken in my day. I've bought contraptions like a Moroccan tangine, a vertical chicken roaster, and even a beer can roaster (which requires you to stick a can of beer up the poor chicken's hoohah 🙈) to make my roasted chicken taste better. And yet, it always turned out, "meh" at best.
As you know, eating dry, rubbery chicken is a fate worse than death (especially when you eat it frequently), so I was on a trial-and-error quest that lasted for years until I finally came up with this recipe which produces the juiciest and best tasting chicken EVER! Every. Single. Time!
I make it almost every week to rave reviews from my family. In reality, however, there are no reviews from my family. My family loses all ability to speak when I serve up this chicken. The only sound heard in the dining room is the slurping and sucking of every morsel of meat off the bones, which to some degree is a bit of a disappointment, because that leaves me nothing for my chicken bone broth except a carcass so bare that it might as well have been devoured by a flock of starving vultures.
So how do I do it? It's as simple, quick, and easy as it gets... well, unless you just got one of those roasters from the stores, which in comparison, are dry and tasteless. Trust me on this!!!
There aren't many ingredients, and most of them are optional. And as you get comfortable with this recipe, you can experiment with your own favorite spices, fresh or dried.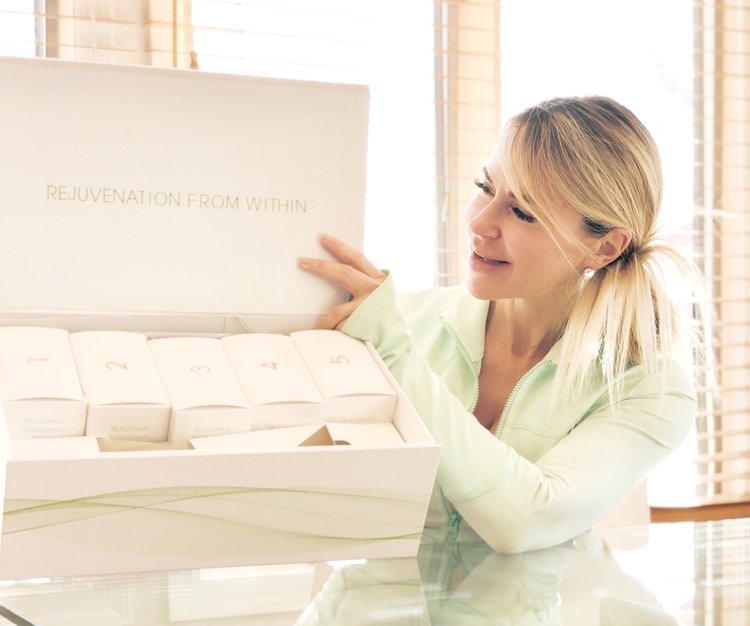 This is the ONLY "quick-results" weight-loss program I'd recommend, because it actually benefits your health.
The ProLon Fasting Mimicking Diet (FMD) was developed by one of the world's leading anti-aging scientists. It's a meal program so powerful that it holds the FIRST U.S. patent for the reversal of aging!
Whether you want to lose a few pounds, lower blood pressure or cholesterol, improve sleep and mental clarity, reduce inflammation, or just need a reset, this is a quick, fool-proof 5-day means to that end.
To find out more about this revolutionary, science-backed program, click the button below to go to the ProLon website and read "Diary of a Girl Who Ate While Fasting" about my own ProLon experience and get a discount code.
RECIPE
NEwroasted chicken
Serves 4 (See visual recipe below)
Ingredients
Optional Ingredients
Fresh Oregano, Rosemary, and Thyme (vs dried). Fresh herbs always trump dried herbs. They're more nutritious and taste better, but also more time consuming and more expensive. When I want to do it right, I mince the fresh herbs myself, but when I'm strapped for time (which is the whole point of this particular recipe), I use the shortcut of the dried herbs.

4-5 Garlic cloves

1 Carrot, peeled and chopped

1 lemon, unpeeled and quartered (I sometimes substitute the apple for the lemon to give the chicken a different flavor profile)

1 teaspoon Organic Garlic Powder
Directions
1. Preheat your oven to 400 degrees.
2. If you opt for fresh herbs, pick the herbs off the stems, chop them up coarsely and set them aside in a small bowl.
3. Remove the chicken from the fridge, unwrap it, and remove the giblets from the cavity. You can toss them or throw them in the freezer to add to your homemade bone broth later on).
4. Place your chicken, breast up, into a Pre-Seasoned Cast Iron Skillet (make sure that when you buy one, it's pre-seasoned with non-GMO oil, like the one linked here)
5. Pat dry the chicken with paper towels. DON'T SKIP THIS STEP! It helps ensure a crispy and delicious crust at the end.
6. Tuck the wings so they don't burn during roasting. Grab one at a time and bend the tip underneath the chicken. If you do it right, the wings will just stay in place underneath.
7. Stuff the cavity with the apple and onion slices, as well as anything else that will provide additional moisture and aromatics to flavor. You can add garlic, carrots, or lemon, and scatter any left over pieces in the pan.
Note: You can also roast potatoes, apples, or cabbage in the same pan at the same time. Just brush them with olive oil, and sprinkle with Coarse Pink Himalayan Salt.
8. Optional: You can truss the chicken with butcher's twine if you'd like. This keeps the legs from popping out too far, which can cause them to get overly brown and dry out during the roasting process. I don't always do that and it seems to turn out just fine, but it really depends on your oven and where you place your chicken within it. To be safe, I recommend that you do it, as it's simple and only takes a minute or two.
9. Turn the chicken over so that it's resting on its breast and sprinkle with salt and spices.
10. Flip it again (breast up) and massage the front and sides with olive oil (you can use a brush if giving a raw chicken a rub down gives you the heebie geebies). I only rub the olive oil over the front and sides, as the back gets plenty when the juices begin to run during roasting. Sprinkle with salt and remaining spices over the rest of the chicken.
11. Slide the herb coated chicken(s) (yes, you can easily make more than one, just multiply the ingredients by however many chickens you are roasting at once) into the 400 degree preheated oven for about 60-75 minutes, until it turns a beautiful golden brown color.
12. Once it's done, take the chicken out of the oven and let it rest for about 10-15 minutes before cutting into it. DON'T SKIP THIS STEP!!! This allows the juices to flow to the right places and makes the chicken super moist. If you tear into your bird right away like a hungry caveman, you'll be left with a sad, dry chicken. Be patient!
13. Serve with roasted or mashed potatoes, freekeh, and roasted veggies or apples. Spoon the juices from the skillet over the chicken and sides and enjoy watching your family tear it up and ask for seconds.
Follow me and never miss a post