Roasted Whole Red Snapper a la Catalana
Having spent a couple of weeks exploring Sardinia, I was incredibly inspired by the fresh seafood and delicious Mediterranean flavors that were on the menu every single day. All that goodness made me determined to bring some of it home so we could relive at least the culinary heaven of this gorgeous, Italian island.
Whole fish was on just about every menu in Sardinia, so the first thing I did when I got home was drive myself over to Whole Foods and pick up an incredible looking 3 pound whole Red Snapper.
For some reason, Americans are afraid of whole fish. Don't be! De-boning a cooked fish is a breeze when you know how (CLICK HERE for a quick tutorial).
Whole fish tends to be juicier and more flavorful, not to mention the WOW factor when you serve it up. And if you end up with a bone or two in your mouth, it's not the end of the world (unless you're on a first date).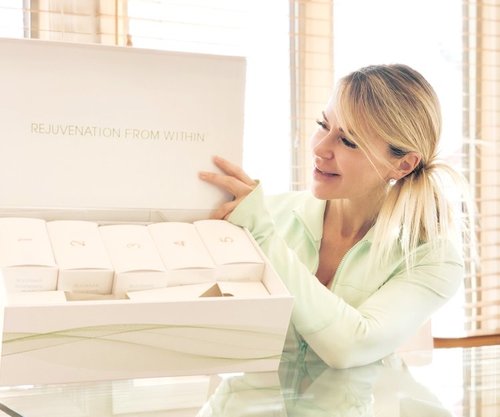 RECIPE
Roasted Red Snapper a la Catalana
Serves 3-4 (See visual recipe below)
Ingredients
3 pound whole Red Snapper, scaled, gutted, and brushed with olive oil

1 large red onion, thinly sliced

1/2 bunch organic Italian flat leaf parsley, half of it in whole leaves separated from the stem and the other half minced

1/2 bulb garlic, peeled, with half of the garlic coarsely sliced and the other half minced (I used a while bulb because we are huge garlic lovers).

1-2 scallions, cut in 2" pieces

1 packet of organic cherry tomatoes

2 ripe large organic tomatoes, sliced (make sure these are flavorful tomatoes)

1-2 packages of organic yellow potatoes (you can use new/creamer potatoes or Yukon Gol), boiled with the skin on. (potatoes are optional depending on your diet regimen, but they taste great with this dish)

1-2 lemons

Olive oil to drizzle (this is my favorite olive oil for drizzling on salads, and pretty much over everything since I got back from Sardinia)

Coarse Pink Himalayan Salt (or Kosher Sea Salt) to taste

Fresh Ground Pepper to taste
Pre-heat the oven to 400 degrees.

Grease a large casserole dish with olive oil and cover the bottom with sliced red onions. Drizzle more olive oil over the top of the onions.

Pat the fish dry (including the cavity) with paper towels then Place it on top of the onions and generously brush the outside and the inside cavity with olive oil. [I snipped the tail because my fish was too large for my pan, but the tail makes for a more attractive presentation.]

Sprinkle both sides of the fish with salt and pepper.

Stuff the cavity with scallions, parsley leaves, garlic slices, and a few slices of lemon. If there are leftovers of scallions and garlic, scatter around the pan.

In a bowl, toss the whole cherry tomatoes in olive oil and salt and arrange inside the fish and around the pan.

Sprinkle parsley over everything and add a few more slices of lemon on top of the fish.

Place the fish in the oven and bake for 25-30 minutes (depending on its size).

While the fish iI roasting, prepare the potatoes. Clean them with a veggie brush and boil with skins on. Be careful not to overcook the potatoes because they will fall apart. If they're different sizes, you may have to remove the smaller ones before the larger ones, as they will cook more quickly. Test them with a fork to check their progress.

Once the timer has chimed after 25-30 minutes and your fish is almost done, turn your oven to broil and and reset the timer to 5-7 minutes.

Remove when the fish looks lightly browned and and de-bone it on a large wooden cutting board. Don't know how? CLICK HERE for a quick tutorial.

Serve with potatoes, and sliced tomatoes. Drizzle more olive oil over everything on the plate and sprinkle with minced garlic and parsley, and garnish with lemon quarters.



I'll leave you with my daughter enjoying the fish head. She is likely the only child in the history of the world who likes to suck the eyeballs out of the fish. 😱 God bless her. 😂😳🙈
ABOUT THE AUTHOR: Victoria Gregory is an Integrative Nutritionist and founder of NEWTRITION NEWYOU. Her focus—whether with private clients, readers of her blog, or her followers on social media— is whole body wellness, incorporating whole-food nutrition, supplementation, exercise, toxin-free living, and mindset coaching. Victoria's personal mission is to help make the world a healthier place, one person at a time, and she has helped thousands of people find joy and self-love through better eating habits and mindfulness. Learn more about Victoria.