Most Toxic 20 Ingredients in Your Personal Care & Beauty Products
Does anyone actually read the ingredient labels on cosmetics and personal care products? There are so many of them and they are all so difficult to pronounce. You'd need a chemist to help you decipher how every one of those chemicals is derived, what they do, and the danger they pose.
Don't think there's any danger? Remember when asbestos was discovered in Claire's eyeshadows marketed to kids? Or when Johnson & Johnson paid out billions of dollars to people who were stricken with cancer as a result of using the company's Baby Powder and other products that contained talc? If you think that the FDA or any other regulatory agency is making sure that the products you and your kids are using are safe, you've got another thing coming!
LACK OF REGULATION
The personal care and cosmetics industry is so shockingly unregulated that it's nearly impossible to trust manufacturers' claims that are placed on their products. A word such as "natural" can be used by anyone to mean anything. Even the word "organic" can be misleading. You see, a product can only use the certified organic label if all of its ingredients are certified-organic. However, if a product's ingredients are at least 70% organic, it can say "made with organic ingredients." This might seem okay at first glance, but that leaves an entire third of a product's ingredients that can be potentially made up of toxins, carcinogens, endocrine disruptors, etc. Worse yet, due to lack of any oversight, many companies are violating the laws for organic products and labeling their products "organic" despite containing few or no organic ingredients.
Today, there are more than 80,000 chemicals on the market, many lacking any safety data (particularly those used in the skincare and beauty industry). What's worse is that the Food and Drug Administration (FDA), the agency that regulates cosmetics in the United States barely regulates the sale of products that we put on our and on our kids' bodies every day.
Over the past two decades, the European Union (EU) has banned more than 1,300 chemicals in the product formulas of personal care products and restricted the levels of over 250 more in such products. Canada has followed suit with 600. And the U.S.? Well, we haven't passed a major federal law to regulate the safety of ingredients used in personal care products since 1938, and have only partially banned 30.to date.
Unless a chemical used in beauty products is proven to cause harm to human health (and according to the American Cancer Society, this is very difficult, time consuming, and expensive to prove, so why would anyone want to spend the time and money to do so in such a deregulated industry?), it is classified as GRAS, or "generally recognized as safe." This classification is upheld by the FDA at which point it's caveat emptor, or buyer beware.
FOREIGN SHIPMENTS
And what about the three million shipments of cosmetics that are annually imported into the United States from 29,000 foreign companies (few of which are registered with the F.D.A, because they are not required to do so) and 181 countries, many of whose unscrupulous standards are questionable at best (e.g., China)? Would you believe that there are only six FDA inspectors who monitor these shipments, which contain lipsticks, eyeliners, nail polish, face powders, tattoo inks and other products that we not only put on our bodies, but our mouths!
Although the FDA has frequently found contamination, illegal ingredients and other problems in the soaring quantities of imported cosmetics (e.g., bacterial contamination, illegal color additives that can cause skin or eye injuries, ingredients that were not on the label as required, and even unsafe chemical substances like mercury in such dangerous amounts that it could lead to kidney and nervous system damage), agency officials and industry executives said they remained confident that most cosmetics sold in the United States — imported or made domestically — were safe. (Source: NY Times) I don't know about you but that makes me feel like these products are anything BUT safe!
WHAT YOU CAN DO
The most important things you can (and MUST) do are:
Educate yourself about the risks of the most harmful ingredients (I've compiled the worst 20 below)

Read the ingredient labels on every product you buy (including food, personal care and cleaning products), and

Choose products that do not contain harmful chemicals. A good example is Beautycounter, a leading company in the Clean Beauty movement.
TOP 20 MOST TOXic
So what are the top 20 most toxic ingredients likely lurking in your cabinets right now? Here are the worst offenders to look for:
🚫 1. MERCURY: Known carcinogen that impairs brain development. Found in mascara and some eyedrops.
🚫 2. LEAD: Known carcinogen found in lipstick and hair dye, but never listed because it's a contaminant, not an ingredient.
🚫 3. FORMALDEHYDE (aka quanternium-15): classified as a "probable human carcinogen" and can cause a burning sensation in the eyes, nose and throat as well as coughing, wheezing, nausea and skin irritation. Found in nail products, hair dye, fake eyelash adhesives, shampoos. Banned in the EU.
🚫 4. TOLUENE: Reproductive/developmental toxin, known to disrupt the immune and endocrine systems, and fetal development, it's used in nail and hair products. Rated 37th most toxic chemical by the federal Agency for Toxic Substances and Disease Registry in 1992Often hidden under the umbrella of the catch-all term "fragrance."
🚫 5. MINERAL OIL: byproduct of petroleum (Yes, that's right, gasoline!). Mineral oils clog pores, increase skin irritation, and can be carcinogenic. Unlike other oils such as jojoba which have nutrients that benefit the skin, mineral oils actually encourage skin to close up, impairing the skin's ability to release toxins This can lead to increased infections and acne breakouts. It's used because it's a cheap carrier, which means that it creates "slip" thereby assisting with "spreadability." Used in baby oil, moisturizers, styling gels.
🚫 6. COAL TAR: A known carcinogen banned in the EU, but still used in North America. Used in dry skin treatments, anti-lice and anti-dandruff shampoos, also listed as a color plus number (e.g., FD&C Red No. 6).
🚫 7. PHTHALATES: You likely won't see this on any ingredient label because it's usually hidden within the category of Fragrance or Parfum. Phthalates have been linked to asthma, ADHD, breast cancer, obesity and type II diabetes, low IQ, neurodevelopmental issues, behavioral issues, autism spectrum disorders, altered reproductive development and male fertility issues. They are present in many fragrances, perfumes, deodorants, lotions. Linked to endocrine disruption, liver/kidney/lung damage, cancer.
🚫 8. FRAGRANCE or PARFUM: (which should just be listed on the ingredients label as "hidden toxins") is packed with dangerous, synthetic chemicals, such as phthalates, which are powerful hormone disruptors linked to pre-term births, birth defects, decreased sperm counts, reduced female fertility, and a worsening of allergy and asthma symptoms. However, this innocuous but misleading term is meant to hide hundreds of these ingredients because they are considered "trade secrets" in the eyes of the government, which seems to place the interests of the corporation above the safety of us, the consumers.
🚫 9. ETHOXYLATED SURFACTANTS and 1,4-DIOXANE: A carcinogen you'll never see on any ingredient label because it's a by-product created from adding carcinogenic ethylene oxide to reduce the harshness of other chemicals. The Environmental Working Group (EWG) has found 1,4-dioxane in 57 percent of baby washes in the U.S. Avoid any ingredients containing the letters "eth."
🚫 10. PARABENS: preservatives found in almost every personal care product on the market. Known to interfere with hormone function, which can lead to early puberty in children & an increased risk of hormonal cancer. Linked to male reproductive issues, an increased risk of breast cancer, birth defects, and organ toxicity.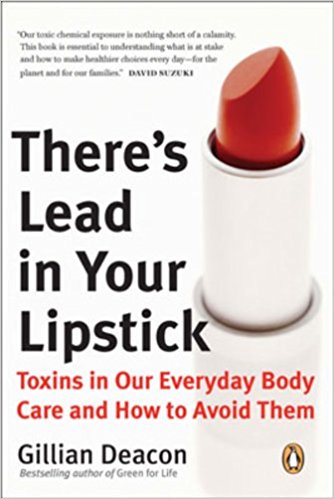 "As someone who doesn't wear lipstick, I thought this book may not apply to me, but as Gill points out, anything we put on our skin finds its way into our body. There's Lead in Your Lipstick is the definitive guide to ensuring we don't inadvertently smother ourselves in chemicals and animal by-products, thereby increasing our risk of disease."
— Brendan Brazier, bestselling author of The Thrive Diet and Thrive Fitness
🚫 11. DEA/TEA/MEA: Emulsifying agents (i.e., they help keep the oil and water from separating). TEA along with cousins DEA (diethanolamine) and MEA (monoethanolamine), are often found in products that foam, including shave creams, gels, shampoos, body washes, and soaps. They have been linked with hormone disruption, and can form cancer-causing nitrates and nitrosamines. They can also be readily absorbed in the skin.
🚫 12. OXYBENZONE: is the active ingredient in chemical sunscreens and has been rated an 8 (on a scale from 1-10, with 1 being the safest and 10 being the most harmful) on the Environmental Working Group's (EWG) toxicity rating scale. This means that it is one of the most toxic ingredients found in cosmetic and personal care products. Oxybenzone has been linked to hormone disruption and has the potential to damage cells that may lead to skin cancer. Because it may mimic hormones, oxybenzone can cause endometriosis and can pose a risk to reproductive systems. It has also been increasingly linked to early puberty in girls, low sperm count and male infertility, and an increase in hormone-related cancers. Researchers state that oxybenzone may be even more estrogenic than BPA, and it was named "Allergen of the Year" by the American Contact Dermatitis Society in 2014. And don't forget that oxybenzone is not only toxic to our bodies, but it destroys coral reefs, which is why it has been banned in places like Hawaii and Key West.
🚫 13. HYDROQUINONE: Used for lightening skin. Banned in the UK, rated as most toxic on the EWG's Skin Deep database, and linked to cancer and reproductive toxicity.
🚫 14. PARAPHENYLENEDIAMINE (PPD): Used in hair products and dyes, but toxic to skin and immune system.
🚫 15. SELENIUM SULFIDE: Possible carcinogen and known human respiratory toxicant.
🚫 16. ACRYLAMIDE: Possible human carcinogen and neurotoxin.
🚫 17. PEG-10 DINETHICONE & CETYL PEG/PEG-10/1 DIMETHICONE otherwise known as "ethoxylated compounds," which produce a carcinogenic byproduct is created called 1,4-dioxane, during processing. Traces of this carcinogen are found in many cosmetic and personal care products, even "natural" ones. 1,4-dioxane can be reduced or removed from a product via a vacuum-stripping process, but independent tests show that many manufacturers fail to do so.
🚫 18. SILICONE-DERIVED EMOLLIENTS: Used to make a product feel soft, these don't biodegrade, and also prevent skin from breathing. Linked to tumor growth and skin irritation.
🚫 19. TALC: Similar to asbestos in composition, it's found in baby powder, eye shadow, blush, deodorant. Linked to ovarian cancer and respiratory problems.
🚫 20. TRICLOSAN: Found in antibacterial products, hand sanitizers, and deodorants, it is linked to cancer and endocrine disruption.
So Now What?
Go to your cabinets, take out all of your cosmetics and personal care products, and start reading the ingredient labels in the back (just like I did about 4 years ago). Compare them to the list above or plug them into the EWG Skin Deep Cosmetics Database, which ranks products and ingredients on a scale from 1-10, with 1 being the safest and 10 the most harmful.

Toss out all the products that contain harmful ingredients and replace with safer options. If you can't afford to do this all at once, finish the products you have and replace them with safer options when the time comes. Remember, every product you swap out helps you reduce your exposure and therefore, your risk of disease down the road.

Sign up for my 360° OF WELLNESS Newsletter or follow my weekly CLEAN SWAP posts on Instagram or here, on my blog, to see which products you should ditch and learn about a safer alternative.
ABOUT THE AUTHOR: Victoria Gregory is an Integrative Nutritionist and founder of NEWTRITION NEWYOU. Her focus—whether with private clients, readers of her blog, or her followers on social media— is whole body wellness, incorporating whole-food nutrition, supplementation, exercise, toxin-free living, and mindset coaching. Victoria's personal mission is to help make the world a healthier place, one person at a time, and she has helped thousands of people find joy and self-love through better eating habits and mindfulness. Learn more about Victoria.