CLEAN SWAP: Self Tanners
Welcome to my weekly featured CLEAN SWAP! This week we are taking a closer look at Self Tanner.
I'm always fielding questions from clients and friends about how they can swap out some of their favorite products for safer, toxin-free options without a loss in quality, taste, or performance (depending on the product). Every week, I cover food, cosmetics, personal care, cleaning and laundry products, and even behavior, so if you enjoy these Clean Swaps, please follow me on Instagram and sign up for my 360° OF WELLNESS Newsletter (⬅️by clicking on this link to the left) so that you never miss a new one.
LET'S TALK SELF TANNER 👩🏽☀️
So you've grown up and realized that baking yourself in the sun is probably not the brightest idea, even if you've found a safer sunscreen that you love, like Beautycounter's Countersun Tinted Mineral Sunscreen Mist SPF30. But are self-tanning lotions safer?

SO WHAT'S SO BAD ABOUT SELF TANNERS? 💁‍♀️
While health experts claim that tanning lotions are safer than the sun's rays, they don't tell you that most self-tanners contain chemicals that are harmful to your health.
🚫 MINERAL OIL is a byproduct of petroleum (Yes, that's right, gasoline!). Mineral oils clog pores, increase skin irritation, and can be carcinogenic. Unlike other oils such as jojoba which have nutrients that benefit the skin, mineral oils actually encourage skin to close up, making it difficult for the skin to release naturally occurring toxins This can lead to increased infections and acne breakouts. It's used because it's a cheap carrier, which means that it creates "slip" thereby assisting with "spreadability."
🚫 PARABENS disrupt our hormonal balance which can lead to early puberty in children & an increased risk of hormonal cancers. Also linked to birth defects & organ toxicity.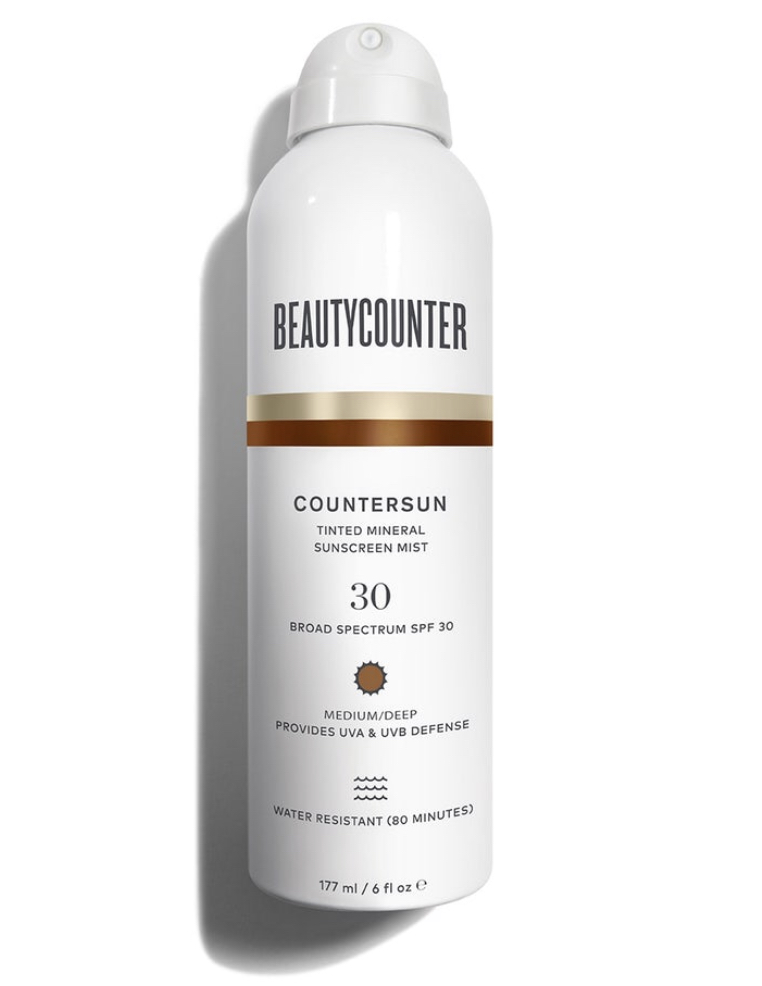 BEAUTYCOUNTER Countersun Tinted Mineral Sunscreen Mist SPF 30
🚫 SODIUM HYDROXYMETHYLGLYCINATE masquerades as a 'natural preservative' but can cause skin and eye irritations. It's has been found to contain formaldehyde (added during processing) and may break down into formaldehyde once it has permeated the skin.
🚫 OCTYL STEARATE is comedogenic (blocks pores) and an irritant.
🚫 ISOPROPYL MYRISTATE is comedogenic and may bind to nitrates in the body (nitrates are carcinogens).
🚫 FRAGRANCE (or parfum), a "catch-all" term that represents a complex cocktail of dozens of potentially harmful chemicals, some of which are known carcinogens (e.g. methylene chloride). Fragrance is an obvious ingredient in perfumes, colognes, and deodorants, but it's also used in nearly every type of personal care (and cleaning) product. Even products marketed as "fragrance-free" or "unscented" may contain fragrance along with a masking agent that prevents the brain from perceiving odor.
READY FOR A CLEAN SWAP?🙋‍♀️
CHOCOLATE SUN
Absolute Sun Tanning Cream
Don't fret, you can have your tan and eat it too… ok, so even though it's called "Chocolate," you can't eat it, but you can look the perfect shade of sun-kissed this summer without having to risk your health.
Check out Chocolate Sun Tanning Cream for face and body. It is 85% organic and contains vegetable-derived DHA. It's parabens- and fragrance-free, and contains no harsh chemicals or animal products. Best of all, it goes on beautifully without streaking, shows up a gorgeous golden brown in a few hours, and smells like chocolate. Win win win!
NOTE: Despite the many harmful ingredients in self-tanners, it is nearly impossible to find a 100% clean and natural self-tanner. Self-tanners need to react with your skin in order for you to develop a darker skin tone, which must come from a form of DHA or sugars that react with your skin's chemistry. If you want a traditional and long-lasting glow, you will have to compromise somewhere and focus on finding a tanner that is the least offensive with chemical-based ingredients as it is impossible to avoid completely.
The only way to avoid any form of DHA or other chemicals is to use a self-tanner that temporarily tints your skin with ingredients like cocoa powder or natural mineral bronzers. However, these types of products are not going to work like a traditional self-tanner. They go on differently, don't last very long, can be easily wiped off with sweat or water, and will not give you the deep and dark glow you are looking for.
The bottom line here is to understand the realities of self-tanners, weigh the costs and benefits of using these products, and make an informed and conscious decision as to what you are putting all over your body and how frequently.

Do you have a favorite clean brand?
Send me a message to tell me Leave a comment below and share what it is. If I like it, I may feature it (and give you props) in a future Clean Swap.
If you enjoyed this weeks's Clean Swap, share it with a friend and sign up for my 360° OF WELLNESS Newsletter (below) so you never miss a new one.
Follow me and never miss a post